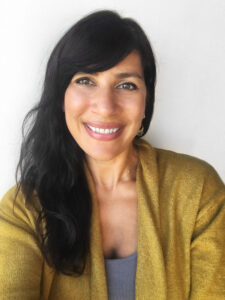 Welcome, and thank you for being here!
I help build cultures of empathy by training people in communication oriented toward connection, clarity, & collaboration. 
There is no denying that I hold sacred our shared humanness, alongside the unique depth and uncanny wisdom that each of us stewards. I am also emphatically results-oriented. It's essential to nourish visions and dreams, and then, it's critical to use practical steps, formulas, and strategic plans to make any vision tangible and real.
Sheila Menezes: Leadership Development and Communication Co-Active Consultant and Coach.
My journey has been a long return to my own compassion; for self, for others, and a return to compassion as a way of life.
I always hoped to do work that I absolutely love. COMPASSIONATE RETURN is my answer to this dream. Every week, I am grateful for my client sessions and it's so fulfilling for me to coach people toward achieving greater inner peace, clarity in their lives, solid goals, and to experience greater ease maintaining satisfying and nourishing relationships.
I passionately support my clients to dream, realistically plan, and gradually attain the quality of life they hope for.  In our empathic coaching sessions, I weave a dual focus on well-being and leadership development; we humans maintain wellness through being heard, staying connected to each other, and held in a safe context of empathic listening. I also support career transition, and leadership development in professional contexts. No matter our current focus, we thrive from gaining practical skills, tools, and coaching that ignites our inner wisdom. We can all get to where we want to be! I offer effective and empathic coaching to nurture and bring to life your whole self, your best self!
With 104 hours of training, I have graduated from the highly acclaimed Coaches Training Institute (CTI), and I have seven years' experience learning, living, and also training individuals and groups in Nonviolent Communication (NVC). I incorporate NVC and Co-Active Coaching to be a LOVING WITNESS holding the space necessary to catalyze my clients into presence and connection with their FIERCE BELONGING, and … to take action!
After graduating from the BayNVC Leadership Program and the BayNVC Immersion Program, I couldn't stay away: I am currently on the Leadership Team for both programs, co-training alongside amazing leaders and an incredible team of change-makers. Weekly, with the Safer Communities project, I volunteer as a Trainer for our community members inside at San Quentin State Prison, co-facilitating an NVC program. I am also a Certified EQ-i 2.0 / 360 Practioner. I administer, interpret, coach and debrief Emotional Intelligence EQ-i 2.0/EQ 360 assessments with employees, leaders and clients and support people to develop and lead with emotional intelligence skills.
I have worked and continue to work with so many amazing people, I hope that you become one of them! I appreciate humanity deeply, and thank you for being a part of my dream!
End Goal: My vision is that we, individually and as a community team, (re)turn to presence, (re)discover our inner freedom and peace, and compassionately steward our shared humanity, together.
I love my clients and welcome your feedback and suggestions. Get in touch to tell me about what you hope to gain with me as your Coach.